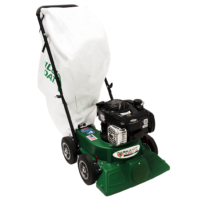 BILLY GOAT LB352 Vacuum
Domestic
The BILLY GOAT LB352 vacuum weighing only 31 kg and 53 cm sweep width is a particularly light and maneuverable entry level vacuum featuring superior suction. The wheel adjustment lever is simple to use and adjusts to hard surface or turf work and the 105 ltr capacity felt bag attaches quickly for easy clean up.

Features Include:
Bag Attachment: Has a 105 ltr capacity and is harness mounted on top and with quick attaches on the bottom. (ADDED ATTACHMENT - NOT INCLUDED)
Wide Nozzle: 51 cm wide nozzle is a favourite for small gardens.
Wheel Adjustment: At your fingertips to accommodate hard surface or turf work.
Foldable Handle: Great for storage and transport.
Specifications
Vacuum Width: 21" - Engine: Briggs and Stratton 140cc 500 Series - Propulsion: Push - Impellor: 4 Blade - Bag: 105L Felt
$1,699.00
$1,699.00
This item is pickup only.