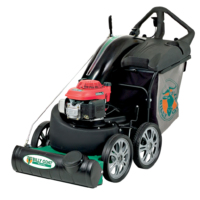 BILLY GOAT MV650H Vacuum
Commercial
Step up to the heavy-duty cleanup power of the MV lawn and litter vacuum. Designed for both hard surfaces and turf, the MV is deal for larger properties, commercial lots, leaf cleanup, rental, parks, city streets, school districts or municipal festival cleanup. From cans and bottles to grass clippings, litter and other debris, this machine gobbles it up with ease!
Features:
29" Gobbler Door: Adjustable from the operator's position for easy switching between hard surface, turf or hose applications.

Micro-Adjustable Height Control: Crank style for optimum performance on turf or hard surfaces.
3 Speed Transmission: Available on self-propelled only. Ultra smooth and extremely durable.
14" Custom Wheels: Smooth out the rough areas and make the vacuum maneuverable.
Unique Top Fill Design Bag: Keeps dust out of operator's face and ensures optimum filling.
Specifications
Vacuum Width: 29" - Engine: Honda 187cc GSV190 - Propulsion: Push - Impellor: 6 Blade - Bag: 151L Mesh
$3,999.00
$3,999.00
This item is pickup only.
Related Products
My Cart
You have 0 items in your Shopping cart