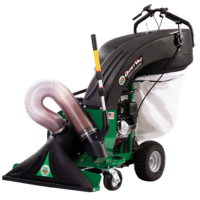 BILLY GOAT QV550HSP Vacuum
Commercial
BILLY GOAT's 33" QUIET VAC touts the lowest noise level in its class and features unique cyclonic filtration, along with exclusive dust sock technology that dramatically reduces dust in dry conditions, and takes their industrial class hard surface unit to the next level. Ideal for wide area commercial, industrial and municipal cleanup applications such as tarmac, school campuses, hospitals, hotels, parks, churches, airport pedestrian areas, resorts, city streets and sidewalks!
QUIET VAC is the first pedestrian vacuum that has a shift-on-the-fly, hydro-static transmission with infinite forward and reverse speeds making the unit nimble and easy to maneuver in tight areas, wide open areas or while driving or pushing manually.
Features:
World's Quietest Outdoor Vacuum: The QUIETVAC has the lowest dB in its class compared to other vacs on the market with equal engines at the same RPM.
Unique Cyclonic Filtration: When combined with the Dust Sock the result is dramatically reduced dust in dry conditions providing the ultimate in operator comfort.
Powerful Suction: Unique volute housing and fan system provide the best suction power of any litter vac on the market today.
Hydro-static Drive Option: Self-propelled hydro-static drive from 0-4.8 km/h with infinite forward and reverse.
Turf Bag: Large 136 litre capacity, add the Dust Sock for minimal dust in dry conditions.
4-Latch Bag System: Loading and unloading is fast and easy.
Specifications
$6,499.00
$6,499.00
This item is pickup only.
Related Products
My Cart
You have 0 items in your Shopping cart