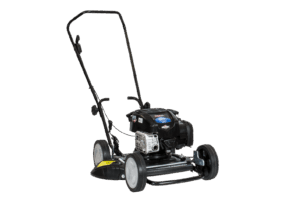 BUSHRANGER 46TBU7 Utility Mower
Domestic
The BUSHRANGER 46TBU7 is a solid walk behind mower, featuring a Briggs & Stratton 725EXI Series Engine which will allow you to go and go. This unit has a sturdy 18" (460 mm) pressed steel chassis, 2 swing back blades and 8" double precision ball bearing for optimal user comfort and a professional cut with every use.
Specifications
Domestic - Engine (cc): 163 cc - Type: Air cooled, single cylinder, vertical shaft, normally aspirated petrol four stroke engine - Ignition: Electronic - Starter: Recoil - Chassis: Pressed steel - Blade Holder: Disc with 2 swing back blade - Cutting Width: 18"" (460 mm) - Weight: 32
$659.00
This item is pickup only.
Related Products
My Cart
You have 0 items in your Shopping cart