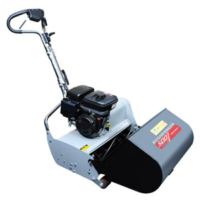 BUSHRANGER 500CM Cylinder Mower
Professional
An ideal cylinder mower for precision grooming of fine turf. The BUSHRANGER 500CM Cylinder Mower suits mid to larger areas and will significantly reduce your mowing time with it's 500 mm cutting width. With all the same features of the 400CM, you will experience years of trouble free mowing with superior quality and reliability.
Specifications
Professional - Engine (cc): 127 cc - Type: Reel - split rear roller - Ignition: Electronic - Starter: Manual Recoil - Chassis: 2 mm steel - Cutting Height(s): Adjustable 7 - 30 mm - Cutting Width: 500 mm - Cutting System: 6 blades reel
$1,899.00
$1,899.00
This item is pickup only.
Related Products
My Cart
You have 0 items in your Shopping cart