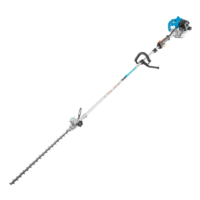 BUSHRANGER HT261 Hedgetrimmer
Professional
The BUSHRANGER HT261 is a professional long reach hedge trimmer with 24" long double-sided blades and an articulated cutting head which adjusts from a 48° upwards angle right through to an 84° downwards angle. Packed with quality features this is a clever and versatile unit.
Features include:
Chrome Impregnated Cylinder: giving a longer life than a standard engine
Reverse Start: only requires one-third the effort to start
Anti-Vibration System: significantly reduces operator fatigue
Powerhead and front handle anti-vibration
Solid Steel Shaft: precision manufactured for optimal performance
Durable bronze bushings: reduce vibrations and power loss
Tank guard
Specifications
Professional - Engine (cc): 25.4 cc - Output: 0.9 kW - Ignition: Electronic - Starter: Recoil - Reverse Start - Blade Length: 24" (610 mm) - DoubleBlade(s): 2 x blades - double sided - Weight: 7kg
$799.00
This item is pickup only.
Related Products
My Cart
You have 0 items in your Shopping cart