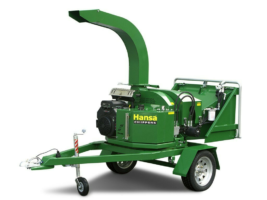 HANSA C27
Professional
Features:

360 degree turntable: Allows feeding from any direction, all while still being coupled and discharging into your tow vehicle.
Wide Infeed Opening: 330 x 178mm (13" x 7"). Excellent for processing foliage and brushy material.
Compact design: Manoeuvrable and versatile. With the inlet chute rotated over the drawbar the total length is 2600mm.
Vertical Anvil: Anvil positioned vertically (rather than horizontally) to reduce knife damage caused by abrasive material.
Hydraulic Pump: Driven off the engine. Even if cutting disk is jammed, the feed roller can still be reversed for clearing the branch material.
Clutch: Easy starting with soft start technology. Simple and reliable.
Outlet: 360° rotating chute with deflector and a positive locking system. No tools required for adjustments.
Jockey Wheel: Large solid wheel, height adjustable.
Light System: LED tail, brake and license plate lights, suitable for 12 or 24 volt system.
Feed Roller: Pivot type spring tensioned, operates with less friction, moves within 10mm of knives.
Feed Control Bar: Pull to feed, push for reverse.
Feed Table: Folds away and is locked when transporting the machine.
Auto Sensor Feed: Electronically monitors engine RPM and controls feed roller to suit. Auto feed is operator adjustable by push button, LCD screen displays engine RPM & hour meter.
Specifications
Professional - Petrol engine: 27HP Kohler EFI - Disc speed: 1800RPM - Infeed chute opening: 96cm x 65xcm - Chipping capacity: 150mm - Discharge system: Height 220cm, Degree of rotation 360º
$34,100.00
$34,100.00
This item is pickup only.
Related Products
My Cart
You have 0 items in your Shopping cart