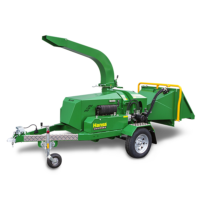 HANSA C40
Professional
Features:
Wide Infeed Opening: 330 x 178mm (13" x 7"). For foliage and brushy material, this wide infeed opening gives the chipper a capacity of a 10" to 12" machine with all the advantages of a 7" machine, e.g. Low weight and cost, and easy to manoeuvre.
Vertical Anvil: Anvil positioned vertically (rather than horizontally) to reduce knife damage caused by abrasive material.
Hydraulic Pump: Driven off the engine. Even if cutting disk is jammed, the feed roller can still be reversed for clearing the branch material.
Clutch: Easy starting with soft start technology. Simple and reliable. Auto tensioning belt drive system.
Outlet: 360° rotating chute with deflector and a positive locking system. No tools required for adjustments.
Jockey Wheel: Large solid dual wheels, height adjustable.
Light System: LED tail, brake and license plate lights, suitable for 12 or 24 volt system.
Feed Roller: Pivot type spring tensioned, operates with less friction, moves up to within 10mm of knives.
Feed Control Bar: Pull to feed, push for reverse.
Feed Table: Folds away and is locked when transporting the machine.
Auto Sensor Feed: Electronically monitors engine RPM and controls feed roller to suit. Auto feed is operator adjustable by push button, LCD screen displays engine RPM & hour meter. Auto reversing for quicker engine recovery. Feed roller jams are reversed and cleared automatically, eliminating manual reversing of feed roller if a blockage occurs. .
Finish: Media blasted surface, zinc shielded and powder coated.
Specifications
Professional - Engine: 42HP Kohler Diesel air cooled - Disk speed: 1800RPM - Feed speed range: 0 - 40m/min / 135fpm with flow control, full reverse - Infeed chute opening: 960 x 650mm - Chipping capacity: 178mm
$45,485.00
$45,485.00
This item is pickup only.