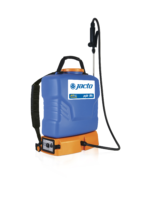 JACTO 16L JACTO PJB-16 Lithium Ion Backpack Sprayer
Professional
Features:
5 pressure settings with pressure lock.
Hydraulic Venturi agitation.
Automatic shut-off after 10 minutes of non use.
Exceptional battery life for all day operation, average 8-12 hours
Over 30 tanks per charge on pressure setting #2
Only four hours to charge the battery.
16 liter capacity
Diaphragm pump with 2.4L/min output and includes pump suction filter.
High-density Polyethylene tank.
Soft-padded – quick adjustment shoulder straps.
Removable lightweight lithium ion battery.
Audible low battery warning.
Constant pressure, regardless of the level of the battery.
Smart control panel with diagnostics.
Walking pace indicator with four different speeds.
Heavy duty trigger valve, field serviceable.
Stainless steel 24″ wand.
4 nozzles and nozzle filter included.
56″ chemical resistant hose
No pumping required.
Less fatigue.
Specifications
Professional - Capacity: 16L - Voltage: 14.4V - Maximum working pressure: 60 psi - Hose length: 1350 mm
$599.00
$599.00
Related Products
My Cart
You have 0 items in your Shopping cart