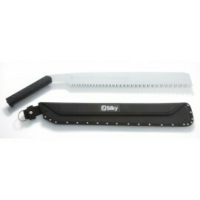 SILKY SAWS Genki Temagari 300mm Hand Saw
This saw has extra large non-set teeth. It is designed to be an alternative to a small chainsaw. The blade sizes are, 300mm, 330mm, 360mm, 390mm and 500mm long. The teeth on this saw have NOT been hardened to allow you to sharpen them, when needed. The blades are hollow ground to reduce friction and increase easy of cutting action and speed. The teeth are not set which means that the teeth will glide easily thought all timbers.
Specifications
Blade Length: 300mm
$82.50
This item is pickup only.
Related Products
My Cart
You have 0 items in your Shopping cart