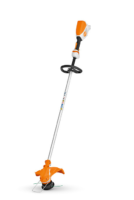 STIHL FSA60R AutoCut C 3-2 Tool Only
Domestic
The FSA60R is ideal for trimming lawns, edges and grass along paths or around plants and objects, especially in noise sensitive environments. Cutting circle diameter 350 mm. Ergonomic operating handle, loop handle, sturdy aluminium shaft. Spacer bracket for mowing around obstacles such as trees and shrubs. Supplied with the AutoCut C 6-2 mowing head.
Tool Only: Battery not included.
Specifications
Professional - Battery powered: 36V - Weight 3.3kg - Total Length: 1,680cm -
$449.00
$449.00
This item is pickup only.