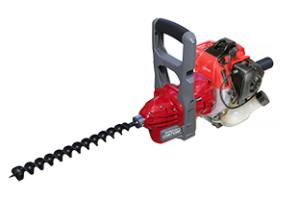 ATOM 985 Professional Drillmaster engine drill
Professional
The ATOM 985 can drill 11/4" (32mm) holes or smaller in tough hardwoods with complete ease as a result of its powerful 48cc Mitsubishi stratified high performance 2-Stroke engine. This engine drill can change gears up to 10 times faster than any other brand of engine drill and also features automatic reverse gear which is not found in any other brand of engine drill. The ATOM 985 Professional Drillmaster engine drill also promotes other features which include all ball bearing, high tensile steel reversing clutches, hardened and 5 axis numerical controlled steel cut crown gears and pinions and a self-locking collar which prevents auger loosening during use. The ATOM 985 is the most powerful engine drill of the ATOM range.
Specifications
Professional - Model: Atom 985 - Powered by 48cc Mitsubishi engine - Auger speed: 0-750RPM
$1,079.00
This item is pickup only.
Related Products
My Cart
You have 0 items in your Shopping cart