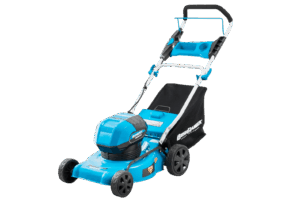 BUSHRANGER 36V Battery 16" Mower - SKIN ONLY
Domestic
The BUSHRANGER 36V battery mower features a powerful brushless motor, 16" Steel base mower Powered by a Samsung cell Lithium Ion battery for long runtime, constant no-fade power, it runs cleaner, quieter and is free from the hassles of petrol or cords. Pull the lever and you have an instant start, long run time and able to hold charge in storage for months.
Instant Start - No pull cords. No warm up. No petrol-oil mixing. No emissions.
SKIN ONLY
Specifications
Domestic - Cutting Width: 16" - Cutting Height: 25 mm - 55 mm - Cutting System: 3000-3500 RPM blade speed - Powerful 36V brushless motor 36V Lithium 2.5 Ah or 5.0 Ah Samsung battery LED battery status indicator.
$389.00
$389.00