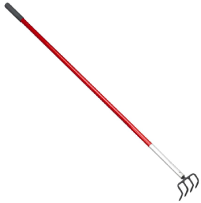 BUSHRANGER HTS261 Hedgetrimmer
Professional
The BUSHRANGER HTS261 is a well balanced single sided hedge trimmer with extra-long 40" blades this unit is designed to handle any commercial work. It provides a myriad of features which include:


Chrome Impregnated Cylinder: BUSHRANGER commercial handheld products feature chrome
impregnated cylinders giving them a longer life than a standard engine.
Reverse Start: An assisted start system which only requires about one-third the
effort of a conventional starter system when the rope is pulled.
Light weight.
High blade speed.
40" (1016 mm) Single sided blade.
The induction hardened chrome steel blades are polish ground sharpened on all three cutting surfaces for a cleaner cut.
Specifications
Professional - Engine (cc): 22.5cc - Output: 0.8 kW - Ignition: Electronic - Starter: Recoil starter - Reverse Start - Blade Length: 40" (1016 mm) - Blade(s): Single Sided - Weight: 6.2kg
$849.00
This item is pickup only.
Related Products
My Cart
You have 0 items in your Shopping cart