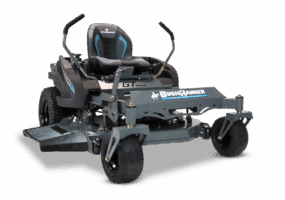 BUSHRANGER Spartan RZ-C 42" Cut
Domestic
The BUSHRANGER RZ-C is our newest compact solution with BIG results. Manufactured with the same fusion welded tube frame as our bigger zero turns, the RZ-C has the same durability with a lower starting price! The BUSHRANGER RZ-C eats up lawns of all sizes and comes packed with premium features that are all included as standard, and truly make the BUSHRANGER RZ-C stand out from the rest. Features like the bullet proof Kawasaki FR651V V-Twin engine (usually reserved for commercial mowers), safety features like the GT Trac for the best traction on inclines, the easy touch brake system, the foot assist easy-lift deck, an ergonomic cockpit and huge fuel tanks will have you happily and safely mowing for hours without having to stop until the jobs done. All Spartan Mowers have an Xtreme Turf Flow (XTF) deck fabricated from 7 gauge steel, not just the top end models. Check out the competition and see the difference for yourself. No light duty decks here! This enhanced deck system comes standard on ALL models and the RZ-C is fitted with a 4" deep version of the deck which allows it to manoeuvre easily in tight spaces. The BUSHRANGER RZ-C series ZTR'S are built and perform like a commercial grade mower but at an affordable price.
Specifications
Domestic - Engine: 21.5 hp (16.0 kW) @ 3600 rpm (Please Note: Horsepower rating as tested to SAE J1995 Standards) - Deck: Side-Discharge: 42" (1067 mm) cut. (2) Blades - Drive System: Dual hydrostatic TUFF TORQ 300 series transaxles
$9,499.00
$9,499.00
This item is pickup only.