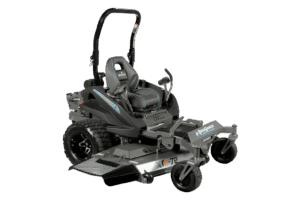 BUSHRANGER Spartan SRT XD EFI 72" Cut
Commercial
The BUSHRANGER SRTXD series is a heavy-duty commercial mower that eats up lawns of all sizes with ease and comes packed with premium features that are all included as standard, and truly make the Bushranger SRTXD stand out from the rest. Features like the premium commercial grade Kawasaki FX1000V EFI, 38.5 hp electronic fuel injected engine. Or safety features like being perfectly balanced with a low centre of gravity combined with GT Trac for the best traction on inclines. Then there is the easy touch brake system, the foot assist easy-lift deck, and the ergonomic cockpit, with all controls in easy reach. On top of this all SRTXD series mowers come equipped with a Smart Ride Technology package. Including upgraded custom-built seats which are adjustable for operator weight and up and down movement. The middle and back Elastomer Tecspak and front neoprene cushioning in the seat absorbs any shocks or bumps. This along with the soft ride front and rear radial tyres and the very clever frame design with independent rear coil springs makes the SRTXD one of the smoothest and most comfortable riding mowers available. When you combine all these features plus the large fuel tank together it will have you happily, safely and comfortably mowing for hours, without having to stop until the jobs done.


Specifications
Commercial - Engine: 38.5.0 hp (28.7 kW) @ 3600pm - Deck System: Side-Discharge: 72" (1829 mm) cut - Blades: 3 - Controls: Throttle, push button key, electric mower clutch, foot pedal parking brake.
$26,999.00
$26,999.00
This item is pickup only.