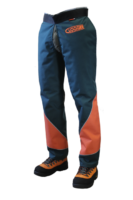 CLOGGER Defender Pro Chainsaw Chaps (Zipped) Large
DefenderPRO Chaps are buckled on over trousers with the integrated belt, and are not joined at the crotch.
The tough outer fabric is constructed from a new grade of specially developed nylon, increasing cut and abrasion resistance. This is further strengthened with a special formula for an oil and water resistant coating, and boasts of a convenient internal pocket. Strong, practical and ready to defend – DefenderPRO is the ultimate word in chainsaw protection.
Features:
Arrestex HP chainsaw protection
High tenacity nylon outer covering with oil and water resistance
Soft poly-cotton lining
Inner lining pocket
Distinct orange lower leg panel
50mm wide belt with quick release buckle
Specifications
Size: Large
$249.00
$249.00