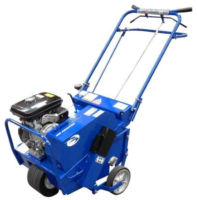 CROMMELINS Bluebird Lawn Aerator 19"
Professional
By removing the cores this allows the soil to loosen and water to feed directly to the root matter. Greater productivity, better maneuverability, and a user-friendly design are just a few of the outstanding features that make the CROMMELINS Bluebird 530 (19″ aerating width) lawn aerator a breeze to operate. Bluebird's patented, free-wheeling tine system allows even inexperienced users to easily aerate corners and tight areas. Operators of the aerator will appreciate its simple design and low maintenance costs. A folding handle, lift handles and semi-pneumatic front tire provide easy transport, while removable side weights offer optimal soil penetration and balance for easier slope aeration.
Features:
30 x 2cm Coring tines (closed spoon design) hardened for long life
Genuine Honda industrial engine
Rotating tines for easy turning
Aerating pattern 76-100mm
Up to 2034m²/hr productivity
2 x 16kg removable weights
Front wheels – 10" semi-pneumatic
Rear wheels (8" solid rubber)
Fold down handles for easy transportation and storage
Specifications
Professional - Engine: Honda GX120 - Digging Depth: 3″ (75mm) - Operating Width: 19″ (482mm)
$7,290.00
$7,290.00
This item is pickup only.