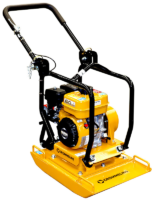 CROMMELINS CC70RPT
This CROMMELINS plate compactor CC70RPT comes with a folding handle and wheel kit. It is built to industry best standards and will make moving the compactor simple to transport and store. Popular for pavers, contractors, hire because of its heavy-duty build and 610x460mm plate size. Features include folding handles for easy storage and transport. It also has fold-out wheels for moving on-site. A soft-grip handle protects the user from excessive vibration. And also powered by a reliable Robin petrol engine. A Honda powered option is also available. The compactor will withstand the heavy demand by rental companies and contractors to provide outstanding performance and longevity. A CROMMELINS plate compactor is the perfect choice for any trade.
Specifications
Engine: Robin 6.0hp EX17 - Frequency: 6500vpm - Centrifugal Force: 18kn - Plate/Shoe Size: 610mm x 460mm - Starting System: Recoil Start
$2,244.00
$2,244.00
This item is pickup only.