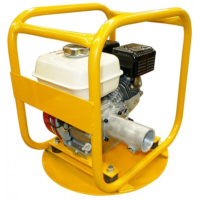 CROMMELINS DU60HP
This Drive Unit powered by Honda will drive 3" Submersible Flexible Drive Pumps and Concrete Vibrators. It comes complete with a heavy duty roll frame to protect it from damage and is backed by Crommelins award winning spare parts and service.
Features
Rubber mounted sub-frame between engine and HD frame to ensure reduced vibration
Full heavy duty protective roll frame
Low oil sensor
Drives 3" Flexible Drive Submersible Pumps
Drives 20 - 65mm Vibrator Shafts
2 Year manufacturer's warranty on Drive Unit
1 Year manufacturer's warranty on Shaft
Applications
Power source to drive Flex Pumps and Concrete Vibrator shafts
Industry
Hire & Rental
Construction
Councils & Shires
Specifications
Engine: Honda GX200 - Drives Vibrators (Up to): 65mm - Drive Pumps (Up to): 50mm
$1,309.00
$1,309.00
This item is pickup only.