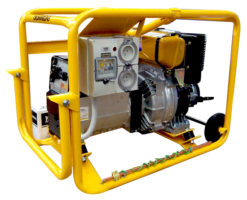 CROMMELINS GW180YDE
This CROMMELINS welder generator 180amp is an electric start for ease of use. Ideal for farming, construction, contractors, and mining industries and designed for onsite welding repairs. The unit can also be used as a 4.0kW (max.) generator for powering small/medium-sized equipment like grinders, drills, lights and for backup power. This unit features a reliable diesel Yanmar engine, Sincro welder alternator all built into a 32mm Australian fabricated heavy-duty steel frame. Electric start allows an operator the simplicity of turning a key to start the generator with recoil start as backup. The welder generator also comes with a set of 5-metre welding leads. Assembled and tested in the CROMMELINS Australian factory. Customization options include; Hire-pack specifications, mine specifications, long-range fuel tanks, Anderson plugs and also recoil-start lock.
Specifications
Engine: Yanmar 10.0hp L100 - Max. Watts: 4000w - Cont. Output: 3200w - Noise Level (dB @ 7m): 97db at 1m
$7,370.00
$7,370.00
This item is pickup only.