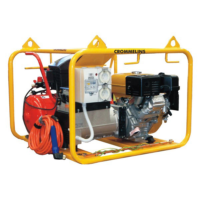 CROMMELINS GW200RPH
With a welder, generator and battery charger in one unit complete with WorkCover compliance, there's no doubt that Crommelins 3-in-1 welder genset will be your best mate on the jobsite, in the workshop or on the go.
Crommelins all-in-one welder generators are considered premium equipment units, renowned for their long life and performance on the worksite. This one is no exception. Powered by a 14hp EH40 Robin engine, the 3-in-1 welder generator delivers a running output of 6400 watts, 200 amp welding capacity, and 12-24 V battery charger without breaking a sweat. With the ease of use at its core, the unit boasts a recoil start and brushless alternator system to deliver a low maintenance and hassle-free solution.
Specifications
Engine: Robin EX40 14hp - Max. Watts: 6400w - Noise - 7m: 76db
$5,450.00
$5,450.00
This item is pickup only.