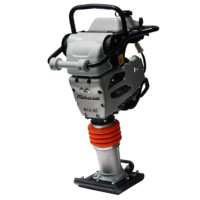 FLEXTOOL MIKASA MTX60E Tamping Rammer
Powerful compaction … 13.6kN force x 695 impact x 80mm stroke at max.
Large twin cyclone air cleaner removes 99% fly ashes.
VAS handle reduces 30 - 40% hand vibration.
Tacho hour meter for checking engine R.P.M. and operating time.
Original throttle lever with fuel cut off mechanism/interlocked kill switch.
Original robust bellows resists twisting.
Original rugged foot made of wear-resistant high-tensile steel sheet and laminated beech wood.
Roller can be used as a fulcrum and rolled to move rammer easily.
Single point lifting hook to make loading and unloading work easier.
Specifications
Engine: Honda GX100 - Impact Force: 13.6 (Kn) - Percussion Rate Max.: 644-695 blows/min - Ramming shoe size (W x L): 265 x 340
$3,399.00
$3,399.00
This item is pickup only.
Related Products
My Cart
You have 0 items in your Shopping cart