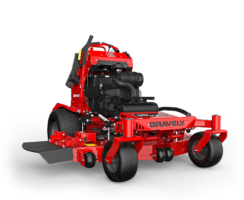 GRAVELY Pro-Stance 48"
Professional
A simple 4-point adjustment system makes it quick and easy to adjust and maintain superior cutting performance.
The flip-up suspension platform provides all-day standing comfort and can easily transition from a stand-on to a walk-behind.
The dual height adjustment system feature offers improved leverage for smaller operators who normally struggle with traditional hand lever lifts.
The deck is simple to adjust and the suspension platform eases vibration for all-day comfort.
Specifications
Engine: Kawasaki® FX691V - Engine Rating: 22 HP/726 CC - Fuel Capacity: 9 gal (34.01 L) - Ground Speed: 9/4 mph (14.5/6.4 km/h)
$14,999.00
$14,999.00
This item is pickup only.