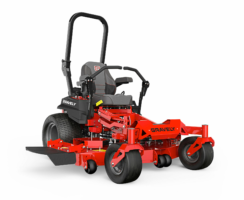 GRAVELY Pro-Turn ZX 60"
Powerful and easy to maintain, this workhorse has a four-stroke, v-twin design with commercial canister air filtration to ensure maximum power and torque even in the toughest conditions.
Makes all-day mowing sessions more comfortable with a plush, high-back seat designed with vibration isolation.
Built to perform season after season, the commercial grade, high-efficiency transmission delivers responsive control.
Specifications
Engine: Kawasaki® FX730V V-Twin - Engine Rating: 23.5 HP/726 CC - Fuel Capacity: 5 gal (18.9 L) - Ground Speed: 8.5/4 mph (13.6/6.4 km/h)
$14,299.00
$14,299.00
This item is pickup only.
Related Products
My Cart
You have 0 items in your Shopping cart