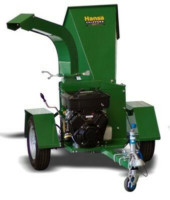 HANSA C16
Professional
This disc type chipper is of solid construction with a chipping capacity of up to 100mm diameter branches, depending on the type of wood. The Chipper will process branch and brushy material, wood offcuts and other vegetation material. The C16 model has a large inlet chute for feeding in bigger bundles of brushy and twiggy materials, vines and larger branches, therefore no precutting is necessary. The machine has a very efficient self feeding action.

FEATURES:
Fast self-feeding cutting action.
Manual clutch for easy starting.
Powered by a quality 16HP Briggs & Stratton Vanguard V-twin 4 stroke petrol engine.
Twin belt drive for smooth running and protection against shock load.
Large infeed chute allows full branches to flow into the machine. No pre-cutting necessary.
Rotating outlet chute for 360° discharge at 1.63m with deflector. The positive locking system requires no tools.
Easy access to the knives and the inside of the housing, simply by swinging open the outlet chute.
Quality hyperloc powder-coated finish
Specifications
Professional - Engine: Briggs & Stratton Vanguard 16hp twin cylinder OHV - Rotor Speed (Max): 1800RPM - Drive Speed: 3600RPM - Inlet opening size: 170mm x 220mm - Capacity: Up to 110mm
$11,900.00
$11,900.00
This item is pickup only.