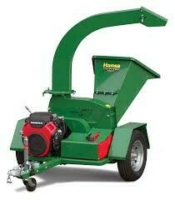 HANSA C21
Professional
The HANSA C21 wood chipper has been designed with the following in mind:

Affordable price
Minimum weight, for easy maneuvering, without compromise in quality and durability
Functional, user friendly and easy to maintain
Features:
Manual clutch for easy starting.
Belt-drive for smooth running and protection against shock load.
Self-feeding cutting action.
Large infeed chute allows full branches to flow into the machine. No precutting necessary.
Rotating outlet chute for 360° discharge with deflector. The positive locking system requires no tools.
Easy access to the knives and the inside of the housing, just by swinging back the outlet chute.
Specifications
Professional - Petrol engine options: Honda 21hp GX630 – Electric Start V-Twin - Knives: 200mm x 80mm x 12mm A8 modified tool steel. Heat treated and ground all over, as used in all professional mill chippers - Infeed throat opening (intake chute): 220mm x 300mm - Chipping capacity: 100mm to 140mm
$16,995.00
$16,995.00
This item is pickup only.