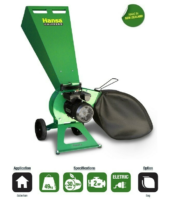 HANSA C3E
Domestic
If you own a domestic property with trees, flowers or a vegetable garden you will find the HANSA C3E Chipper Mulcher an ideal size, compact and quiet, chipper shredder. The cantilever rotor design allows fibrous materials such as palm fronds to be processed, without running the risk of wrapping around a shaft.
Features
One in feed chute with large opening at a convenient operating height
Powered by 2HP single phase electric motor
Capacity of 30mm branch diameter
Push button start with thermal overload
Conforms to ASNZS62841.1-2015 standard
Discharge out the side directly back onto your garden or stockpile or into optional bag (as shown in image above)
Solid housing construction of 5mm steel plate
Easy access to cutting blade – remove four bolts and everything is accessible
Easy to transport, well balanced on large solid rubber wheels
Will handle flax, cabbage tree leaves and palm fronds without wrapping around the rotor shaft
Quality powder coated finish (media blasted surface for excellent adhesion)
Specifications
Domestic - Electric Engine: 2hp Single phase electric motor - Knife: 110mm x 40mm x 6mm A8 modified tool steel. - Disc Speed: 2820RPM - Infeed throat opening: 11cm x 13cm - Chipping Capacity: 30mm branches
$1,500.00
$1,500.00
This item is pickup only.