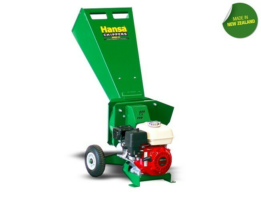 HANSA C4
Domestic
If you own a domestic property with trees, flowers or a vegetable garden, you will find the average small shredder on the market of similar size is not efficient for processing all your prunings and trimmings into compost or mulch. They cannot cope with the volume of materials to be processed. They are too slow, block up easily, the inlets are often too small so that the material has to be precut before you feed it into the machine, or they are too lightly built.

The HANSA C4 chips branches up to 40mm in diameter and features:
One in-feed chute with large opening at a convenient operating height
Fast chipping action
Quality engine – Honda 4 stroke GX160
Easy starting
Discharge out the side directly back onto your garden or stockpile
Solid housing construction of 5mm steel plate
Easy access to cutting blade – remove four bolts and everything is accessible
Easy to transport, well balanced on large solid rubber wheels
Quality hyperloc powder-coated finish
12 month warranty or 24 month warranty on registration of product
Bag attachment available (Part No.: C4-A014 - $140)
Specifications
Domestic - Petrol engine: Honda GX160 - Knife: 110mm x 40mm x 6mm A8 modified tool steel. - Disc speed: 3,600rpm - Infeed throat opening (intake chute): 11cm x 13cm - Chipping capacity: 40mm or 1.5 inches
$2,100.00
$2,100.00
This item is pickup only.