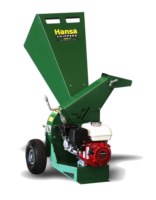 HANSA C7
Ideal for the home gardener or acreage owner, the Hansa C7 is a garden shredder, mulcher & chipper, in use across Australia – tidying up and creating mulch for gardens, acreages and small farms.
The HANSA C7 chips branches up to 65mm in diameter and features:
Honda GX200 4 stroke petrol engine
Easy start
Heavy duty blades
Pneumatic wheels for easy manoeuvring by hand or by road in a trailer, ute or 4WD
Solid-steel casing
Twin belt drive
Adjustable output chute
Similar noise output to a domestic mower
Minimal cleaning and maintenance required for this garden shredder, mulcher & chipper.
Available in a standard or towbar version (Part No.: C7-A012 - $150)
Specifications
Domestic - Petrol engine: Honda GX200 - Knife: 110mm x 40mm x 6mm A8 modified tool steel. - Disc speed: 2,600rpm - Infeed throat opening (intake chute): 140mm x 140mm - Chipping capacity: 70mm or 2.5 inches
$3,200.00
$3,200.00
This item is pickup only.