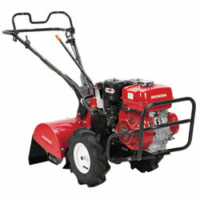 HONDA FRC800
Professional
Superbly balanced and designed with the end user in mind, the HONDA FRC800 is perfect for big, tough jobs that only the best tillers can handle. Featuring 3 forward gears & 1 reverse gear, as well as a deadman clutch for safety and a 500mm tine width, the HONDA FRC800 comes standard with the features that Australian farmers and commercial operators want. It's powered by the gutsy, ever-reliable HONDA GX240 4-Stroke Engine that draws on decades of HONDA's technological advancements to offer commercial-grade power.

Specifications
Professional - Engine: GX240 4-Stroke OHV - Starting: Recoil - Tilling Width: 500mm - Gears: 3 Forward/1 Reverse
$3,869.00
$3,869.00
This item is pickup only.
Related Products
My Cart
You have 0 items in your Shopping cart