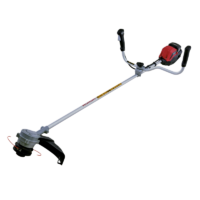 HONDA HHT36 - SKIN ONLY
Professional
By developing a new generation of high-capacity batteries and a powerful, 36-volt electric motor, Honda's engineers ensured that the HONDA HHT36 Battery Brushcutter offers superior cutting performance just like the HONDA standard! Honda's new generation Battery Brushcutter boasts innovative battery technology and uncompromised cutting performance for the toughest applications. Get premium performance without the headache! The HONDA HHT36 Brushcutter has a low vibration level of <2.5m/s2 and is super quiet so is ideal for early starts and late finishes.
Specifications
Professional - Bike Handle - Operating Noise Level: 93dB(A) - Standard Cutting Head: Tap & Go Head - Weight: 6.5kg (excl Battery) - Run Time: Bump Head / Blade - 4Ah: 33 / 60 mins 6Ah: 50 / 90 mins 9Ah: 75 / 135mins
$849.00
$849.00
This item is pickup only.
Related Products
My Cart
You have 0 items in your Shopping cart