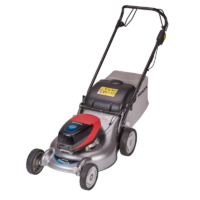 HONDA HRG466 - SKIN ONLY
Domestic
HONDA's new battery-powered izy-ON HONDA HRG466 mower is cleaner than you think. As well as being zero-emission and boasting quiet running, there's no need for handling petrol and a starter cord. Operating via a 3-Phase Brushless 1800w motor, get optimum performance for that HONDA finish through the power of HONDA's Thermo-Smart universal battery range. The HONDA izy-ON HRG466 is the first battery-powered mower to offer Versamow® selective mulching.
Specifications
Domestic - 18" Pressed Steel Deck, powder coated deck - 36v Battery powered 1800w 3-Phase brushless motor - Catch, Discharge or Mulch via Versamow system - Weigh: 27kg (excl Battery)
$1,149.00
$1,149.00
This item is pickup only.
Related Products
My Cart
You have 0 items in your Shopping cart