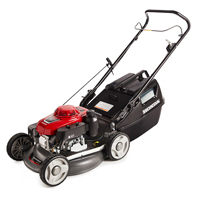 HONDA HRU196 Buffalo Pro - Engine Brake
Professional
The HONDA HRU196 Buffalo pro has a powerful, long-lasting 5.5 horsepower-class engine with cast-iron bore in the form of a GXV160, perfect for harsh Australian conditions.
This model also features HONDA's Mow-Safe® technology in the form of a Engine Brake. This Engine brake technology entails the engine stopping within three seconds of the operator releasing the handle.

Features Include:
GXV160 4-stroke
Engine brake technology
Improved mulching function
Wide open discharge
Ideal for medium to large lawn
Specifications
Professional - Engine: GXV160 4-stroke (OHV with Cast-Iron Bore) - Chassis: Cast Aluminum - Blade Type: Swing Back blade - Cutting Width: 19" (470mm) - Catcher Capacity: 54 Litres
$1,099.00
This item is pickup only.
Related Products
My Cart
You have 0 items in your Shopping cart