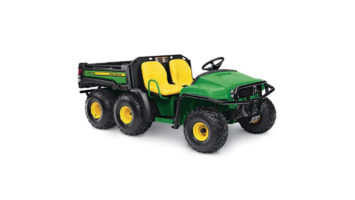 JOHN DEERE TH6x4 Diesel
The Work Series, our Traditional Gator™ Utility Vehicles, are easy to use, hardworking and provide unmatched productivity. Mid-size and Full-size models are available.
Top of the line heavy duty work vehicle
Diesel toughness and durability
Wide stance for enhanced stability
Specifications
Engine Power: 13.8 kW (18.5hp) - Top Speed: 32 km/h - Seating Capacity: 2 - Fuel Type: Diesel - Fuel Capacity: 20L
P.O.A.
Related Products
My Cart
You have 0 items in your Shopping cart