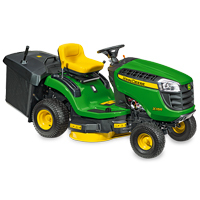 JOHN DEERE X115R
Domestic
The X100 line up feels right, because they're built right. With 3 models and a wide range of features and options to choose from there's something for everyone.
Features:
Operator station designed for comfortable operation
Powerful engine features full-pressure lubrication for dependability and long life
Full-length welded steel frame for reliability
Rear hopper has large 300-L (8.5-bu) capacity and is easy to empty
92-cm (36-in.) Rear-Discharge Rear-Collect Mower Deck cuts clean
Comfortable Operation
Deck engagement: mechanical
Collection capacity: 300 litre

*Price excludes pre-delivery and delivery*

Specifications
Domestic - Engine: 7 kW (9 hp) - Deck: 92 cm (36 in.) Edge™ Rear-Discharge Deck - Transmission: Hydro / Automatic - Drive System: 2-wheel drive
$0.00
P.O.A.
Related Products
My Cart
You have 0 items in your Shopping cart