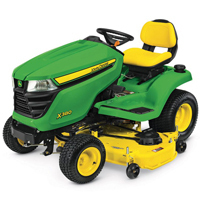 JOHN DEERE X380 48"
Professional
Engine is smooth running and reliable V-twin air-cooled design
Frame is reliable heavy-duty welded steel
The 48-in. (122-cm) Accel Deep™ (48A) Mower Deck cuts clean and is versatile
Lever-action or electric one-touch MulchControl™ options are available for extra mowing convenience
Operator station is comfortable and convenient
Controls and display functions are easy to identify and convenient to use
Steering is low-effort sector and pinion system
Exact Adjust ports and on-board deck-leveling tools make precise deck adjustments easy
Rear equipment-mounting system is heavy-duty and easy to use
Serviceability is convenient with easy-open hood

*Price excludes pre-delivery and delivery*

Specifications
Professional - Engine: 16 kW (22 hp) iTorque Power System - Displacement: 726cc - Deck: Standard 122 cm (48 in.) Accel Deep™ Deck, optional 137 cm (54 in.) Accel Deep Deck - Transmission: Hydrostatic Transmission - Drive System: 2-Wheel steer
$8,100.40
This item is pickup only.
Related Products
My Cart
You have 0 items in your Shopping cart