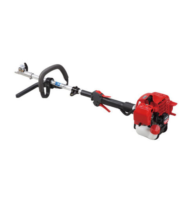 SHINDAIWA M243S
Professional
At just 4.5kg with a 23.9cc engine the SHINDAIWA M243S is a lightweight and powerful multi-tool head. Equipped with Soft Start for easy starting, a tool-less air filter cover and an easy to use coupler, you can switch effortlessly from on professional tool to the next.
Specifications
Professional - Engine Displacement: 23.9 cm3 - Output: 0.78 kW - Engine: 23.9cc - Weight: 4.53kg
$579.00
$579.00
This item is pickup only.
Related Products
My Cart
You have 0 items in your Shopping cart