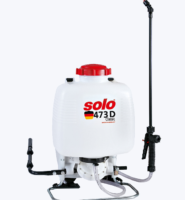 SOLO SPRAYERS 10 Litre Backpack Sprayer
Professional
Impressive spray performance with two nozzles.
Application: Use in a variety of agricultural, tree nursery, forestry, fruit and vegetable growing, vineyard and greenhouse settings. Suitable for applying liquid plant protection, insecticides, herbicides and fertilisers; including Roundup.
Large filling apertures for convenient filling of the tank and low resistance pumps make spraying easy work. The worldwide success of these robust, durable pressure sprayers can be attributed to the following characteristics: low maintenance, large spraying capacity, even application with low energy requirements and low inherent weight due to the use of top quality UV-stabilised plastics. A well-designed range of accessories creates solutions for special applications.
Specifications
Professional - Tank Capacity: 10L - Max Spray Pressure Bar: 4.0
$210.00
$210.00