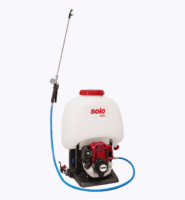 SOLO SPRAYERS 20 Litre Backpack Power Sprayer
Professional
Features a genuine Honda 4-Stroke engine with plenty of power.
Application: Plant protection for tall plantings; including trees, larger shrubs and fruit trees. Also suitable in agricultural contexts, such as crop protection. Public gardens and areas involving landscaping can also be serviced.

The adjustable operating pressure of the push-pull piston pump reaches up to 30 bar, enabling this unit to deliver the finest spray – even high up – at a flow rate of up to 2 L/min. Long working stretches without refilling are ensured by capacities of 20 litres. A practical drain connector underneath the container enables complete draining of residual liquid. This SOLO SPRAYER is equipped with a 50 cm stainless steel spray wand and a pressure gauge on the sturdy, quick-release handle, which allows the pressure to be matched to any application. Supplied with a high quality, double flat-jet nozzle, with stainless steel nozzle discs. With the right accessories you can discover the powerful advantages of this motorized sprayer.


Specifications
Professional - Engine: Honda GX 25 4-stroke - Tank Capacity: 20L - Max Adjustable Spray Pressure: up to 30 bar
$1,025.00
$1,025.00