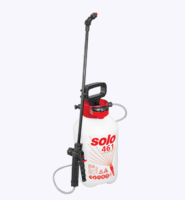 SOLO SPRAYERS 5 Litre Manual Sprayer
This manual sprayer is ideal for a variety of tasks in garden and landscaping jobs.
Application: Achieving plant protection for large private gardens, decorative plants and shrubs; this sprayer allows for weed control. Suitable for applying liquid plant protection, insecticides, herbicides and fertilizers; including Roundup.

The large, smooth-acting 270 cm pump creates the necessary spray pressure. The wide filling aperture with facility to retain the spray wand, the generous filling and cleaning aperture and two spray nozzles supplied as standard (flat jet and hollow cone) – all located within a handy storage compartment cover – are just some of the features of these attractive pressure sprayers. The polyethylene tank is UV-resistant and transparent so the fill level is easily visible and can be checked against the measuring scale.

Specifications
Tank Capacity: 5.0L - Max Spray Pressure Bar: 3.0 - Hose Length: 1.4m
$65.00
$65.00