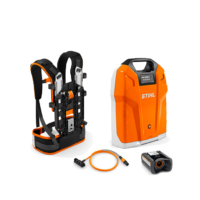 STIHL AR2000L Set
Professional
Sturdy housing with integrated carry handle and charge-level indicator (six LEDs). Can be directly connected with RMA 765 V. In combination with the AR L carrying system and AR L connecting cable, suitable for tools with a socket and in combination with an AP adapter for tools with a battery slot. Can be used in the rain. INCLUDES connecting cable, AP adapter and carrying system.
Specifications
Rated voltage: 36V - Battery weight: 7.4kg - Energy content: 1.015Wh - Capacity: 27.4ah
$2,399.00
$2,399.00
This item is pickup only.
Related Products
My Cart
You have 0 items in your Shopping cart