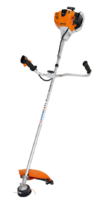 STIHL FS240 - AutoCut 36-2 Tool Only
Professional
The easy-to-adjust bike handle provides comfort in use, and then swivels to simplify transport. This trimmer comes standard with our most popular professional cutting head, and can be utilized with brush knife and saw blade attachments.
Specifications
Professional - 2 stroke engine - Power Output: 1.7/2.3kW/hp - Weight: 7kg - Total length: 1,805cm -
$1,199.00
$1,199.00
This item is pickup only.