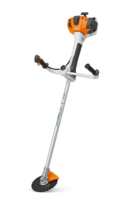 STIHL FS561 C-EM Saw Blade 225-36
Professional
The new 9.85-inch circular saw blade effortlessly cuts through growth. A rugged professional design with 4-point anti-vibration system and new handlebar with improved ergonomics compared to the previous models, gives users a tool built for optimal comfort and control while minimizing operator fatigue.
Specifications
Professional - 2 Stroke Oil - Power Output: 2.8W/hp - Weight: 10.3kg - Total Length: 1,760cm
$2,899.00
$2,899.00
This item is pickup only.