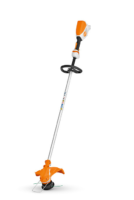 STIHL FSA86R - AutoCut 6-2 Tool Only
Professional
Cutting circle diameter 350 mm. Ergonomic control handle with infinitely variable speed control loop handle, sturdy aluminium shaft, and spacer bracket. With AutoCut C 6-2 nylon mowing head. Alternatively, the PolyCut 6-2 mowing head with plastic blades is available as an accessory.
Tool Only: Battery not included.
Specifications
Professional - Weight: 3.4kg - Battery powered: 36V - AutoCut head 6-2 - Total Length: 1,725cm
$499.00
$499.00
This item is pickup only.