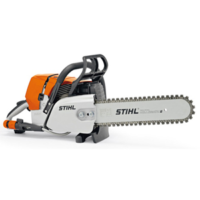 STIHL GS461 - 40cm/16"
Professional
The GS461 concrete saw is equipped with environmentally friendly 2-MIX engine technology for lower emissions, In addition, this model also features an extremely efficient anti-vibration system for more comfort during operation. The GS461 is designed for free hand cutting in concrete with re-enforcing, natural stone, sewage pipes (concrete, ductile iron) and general masonry. The GS461's maneuverability makes it perfect for cutting in tight spots or close up against a 90 degree corner. Suited to the professional user, the GS 461 is ideal for rental outlets, government departments, concreters, brickies, plumbers, landscape gardeners and fire and rescue services.
Specifications
Professional - 2 Stroke engine - Power output: 4.3-5.8kW/hp - Displacement: 76.5cm3 - Bar length: 16" - Weight: 7.6kg
$2,199.00
This item is pickup only.
Related Products
My Cart
You have 0 items in your Shopping cart