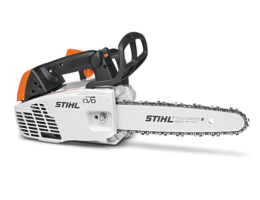 STIHL MS194T - 30cm/12"
Professional
With its exceptional power-to-weight ratio, the STIHL MS194T packs professional-grade performance into a compact and lightweight body. Its efficient, low-emission engine delivers excellent fuel economy, allowing users to save money on gas and save time on refueling. One-touch stop allows users to turn off the engine with the press of a button, which saves time and reduces the chance of flooding when restarting. Dependable and hardworking, the STIHL MS194T also includes a diagnostic port, making it easy to identify and service.
Specifications
Professional - 2 stroke engine - Power Output: 1.8-2.4kW/hp - Displacement: 31.8cm3 - Saw chain pitch: 3/8" - Weight: 3.8kg
$749.00
$749.00
This item is pickup only.
Related Products
My Cart
You have 0 items in your Shopping cart