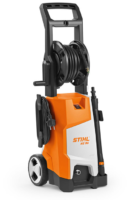 STIHL RE95 PLUS
Domestic
Lightweight and compact high-pressure cleaner with extensive features. Aluminum pump head, integrated wheel kit, cleaning agent spray set, rotary nozzle, adjustable fan jet nozzle with pressure regulation, anti-drill quick-release coupling on the trigger, park position for switching off the sprayer when taking breaks, 6 m high-pressure hose, transport handle.
Specifications
Domestic - Maximum water throughput: 516 l/h - Weight: 10.1kg
$229.00
$229.00
This item is pickup only.
Related Products
My Cart
You have 0 items in your Shopping cart