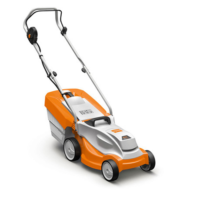 STIHL RMA235 - 33cm Tool Only
Domestic
The advantages of the STIHL RMA235 are clear to see: It's light weight and easy to handle. Very small gardens are easy to tend with this 14kg lightweight battery lawn mower. The necessary energy is provided by the STIHL AK battery system using high-quality lithium-ion batteries. The motor unit is also equipped with an always-on ECO mode, which together with the flow-optimised blade ensures maximum efficiency when mowing. Using the central cutting height adjustment you can choose from five height settings, with an easy to see scale showing the current setting. The 30L fold-able grass catcher box has also been designed for ease of handling. Simply release and empty in just a few simple steps. Between uses, this lightweight battery-powered lawn mower is easy to transport and folds away neatly, making it the perfect addition to any garden shed.
Specifications
Domestic - Weight: 14kg - Cutting height: 25-65mm - Cutting width: 33cm - Battery powered: 36V - Grass catcher volume: 30L
$399.00
$399.00
This item is pickup only.