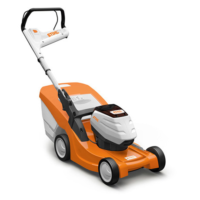 STIHL RMA443C - 41cm Tool Only
Domestic
Compatible with the 36V AP battery range, this lawn mower features an eco-mode and a flow-optimised blade. Key features of the STIHL RMA443C are its flexibility, power and mobility. For comfortable handling, the lawn mower is equipped with a mono-comfort handlebar as well as a foldable grass catcher box. The desired grass height can be selected according to preference using the central cutting height adjustment. Run time may vary based on battery type, charge level and capacity, model, operating style and conditions. Batteries and chargers can be purchased separately or as a combined kit with the skin.
Tool Only: Battery not included.
Specifications
Domestic - Weight: 23kg - Cutting Height: 25-75mm - Cutting width: 41cm - Battery powered: 36V - Grass catcher volume: 55L
$649.00
$649.00
This item is pickup only.